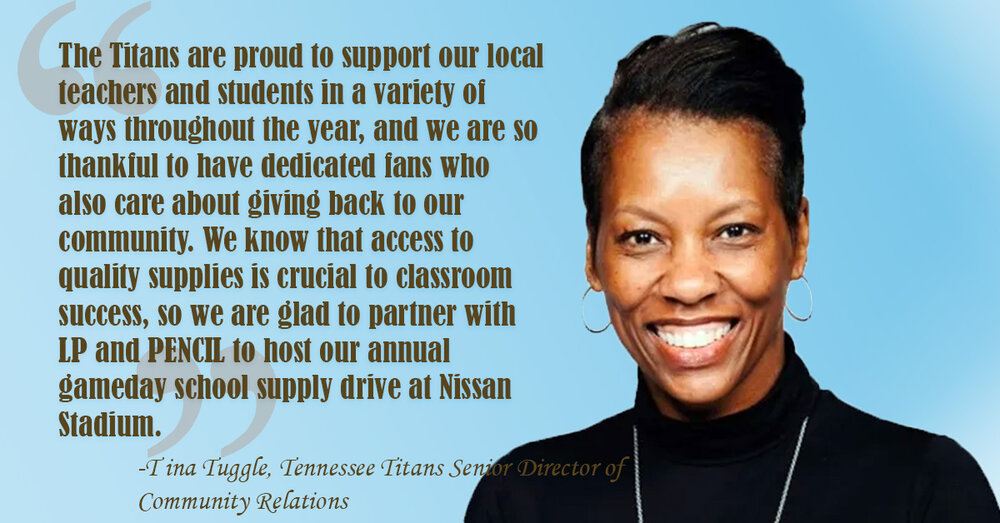 Sunday is a fun day for football fans to support PENCIL in collaboration with the Tennessee Titans during the annual LP PENCIL Box School Supply Drive at Nissan Stadium.
Attending fans at the first home game of the season against the Indianapolis Colts are encouraged to donate school supplies to aid the needs of teachers in Metro Nashville Public Schools.
"The Titans are proud to support our local teachers and students in a variety of ways throughout the year, and we are so thankful to have dedicated fans who also care about giving back to our community," said Tina Tuggle, Tennessee Titans Senior Director of Community Relations. "We know that access to quality supplies is crucial to classroom success, so we are glad to partner with LP (Pencil Box) and PENCIL to host our annual gameday school supply drive at Nissan Stadium."
LP PENCIL Box and PENCIL volunteers will be stationed at various locations around the stadium to collect donated supplies such as pencils, notebook paper, markers, art supplies, Ziplock bags, tissue boxes, paper towels, and dry erase markers. In the 2018-19 school year, the PENCIL Box distributed $1.44 million worth of supplies to teachers in MNPS.
"For me, it's all about the opportunity to get the message out for the need and the impact that a single individual gift can have on a student's educational experience," said CEO of PENCIL, Angie Adams. "[Donating] helps a teacher feel appreciated by the community for the work they are doing with students, and the opportunity to raise awareness."
The donated supplies will go to the LP PENCIL Box, which is a teacher supply store filled with classroom essentials such as pencils, crayons, copy paper, notebooks, book bags, glue sticks, hand sanitizer and so much more. MNPS teachers can shop once a quarter at no cost to them.
---